POINTR remote collaboration performance now optimised globally!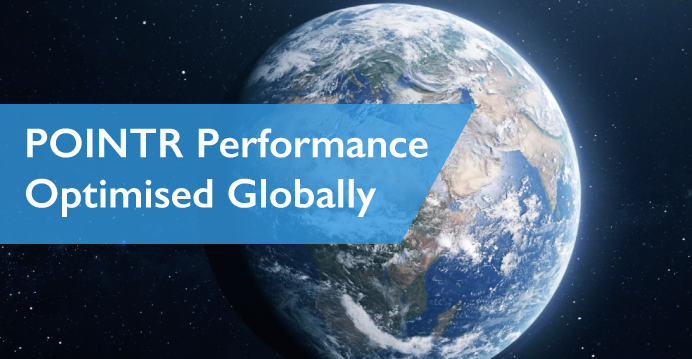 The POINTR remote collaboration experience is always revolving around the possibility to collaborate anywhere on earth. The POINTR Global Deployment release expands our infrastructure to fully optimise the POINTR collaboration experience within Asia and South America regions in addition to Europe.
Nordics and the German speaking area are the industrial stronghold of Europe and therefore the core market for POINTR from the very start. The collaboration infrastructure has been optimised for this area from day one. Due to the release the optimisation is done for all users globally. This spring we will first launch Tokyo, covering the Asia region, and after that Sao Paulo to better serve South-America.
"The new global infrastructure will boost POINTR performance for users in Japan and China. Our tests show that deploying the server in Tokyo improves the call experience throughout the continent. We also have some major activity going on in South-America. Extending infrastructure to Sao Paulo optimises call experience also for the growing number of South-American users", explains Delta Cygni Labs CTO Sauli Kiviranta.
After the optimisation users will experience a difference in latency, frame rate and the overall call quality locally and globally. "The biggest improvements will be in the latency. The time it take for the POINTR live stream to reach between participants decreases. The latency will reduce and frame rate will rise, which improves the in-call experience.  The overall call experience improves even if you are using the solution in limited network conditions", Kiviranta describes. The global infrastructure allow POINTR calls to adapt even better for limited network conditions and the whole call experience takes a step to the next level.
POINTR is utilising security standards used by financial institutions. Our banking level cyber security covers the whole collaboration experience. All data transmission: All of the various data transmissions needed for communication, such as handshakes, control data and live video and audio streaming data. is compliant to same security standards financial institutions like Banks use for their online services. The data is secured and encrypted regardless of the user's location. POINTR remote collaboration also maintains full compliance with GDPR throughout the global deployment.
The Tokyo deployment does not need any actions from users and the South-America deployment benefits can be taken in use with a POINTR update.
To summarise the POINTR Global Deployment: Smoother in-call experience globally and increasing performance in poor networks while keeping the supreme level of security.