Augmented reality saves a great deal of money in industrial maintenance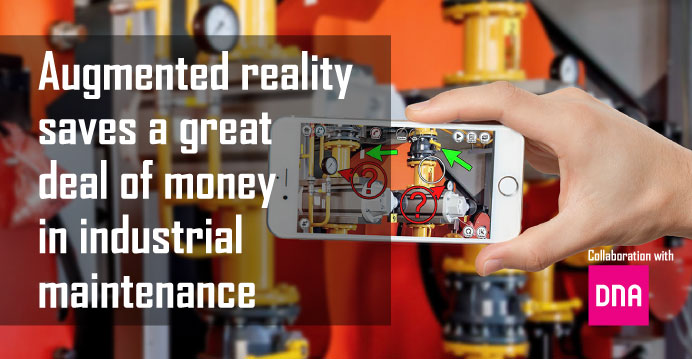 This article is translated after an original Finnish article by DNA Business, Sep 2020.
Augmented reality saves a great deal of money in maintenance
A large part of Finland's export revenue comes from the industrial machinery and equipment sector. It is standard practice for experts to travel to customers for the installation, maintenance, and inspection of this equipment. This can be expensive, inefficient, or even impossible to carry out. A cost-effective alternative can be found in Augmented reality technology (AR). It enables high quality industrial maintenance and installation to be carried out remotely anywhere in the world, resulting in cost savings, faster problem solving, and improved quality of work.
AR in industrial maintenance is slowly becoming mainstream and Finland has become one of the world's leading countries implementing the technology. A driving force is the POINTR application, developed by Delta Cygni Labs in Tampere, which has been adopted by a growing number of global companies, such as Valmet, Wärtsilä, Ford, and Schneider Electric.
"Augmented reality has become commonplace in certain export-driven companies with a long history in the industrial service business. They have usually had some form of remote assistance technology in use for 25 years, especially for remote diagnostics. In addition, more and more companies have begun to trust that AR technology works in the field and that it will provide measurable benefits," tells Ilmo Lounasmaa, Chief Operating Officer of Delta Cygni Labs.
Lounasmaa highlights that this year, machine manufacturers have been struggling to travel to their customers for maintenance and to deploy new equipment. As a result, manufacturers have had to use local partners, who have less experience of specialist tasks than the manufacturers' own staff. Therefore, it is crucial to ensure that local partners have specific information and knowledge with them on site.
Augmented reality takes expert know-how all over the world
The POINTR application works directly on your smartphone, tablet, and computer. It facilitates making enriched video calls and the threshold for using the application is very low. The breakthrough has been accelerated by 4G technology for mobile networks. The advance of 5G networks will enhance the sleek user experience further.
Although the smart phone is the device of choice in most cases, AR glasses, although not essential, are also compatible with the application.
"Our customers find AR glasses very interesting and many benefits are expected from adopting the technology. For the time being, usability issues and high prices are slowing down wider adoption," says Ilmo Lounasmaa.
The primary idea behind the application is to enable the hands-on experience and know-how of an expert to be sent directly and in real time to a service technician or installer anywhere in the world.
"The value of Augmented reality lies in the fact that in addition to only explaining, you can also show. It allows real interaction between the parties. Problems are solved much faster and the work becomes easier. When working without visual and real-time information, it is like working blindfolded. The visual information eliminates possibilities for errors," says Lounasmaa.
In the POINTR app powering this AR, you can display the current case, have a conversation on the issue, and place markings and guiding symbols in view:
"first open this bolt I stamped the yellow arrow on";
"close this valve marked in red by turning to the right".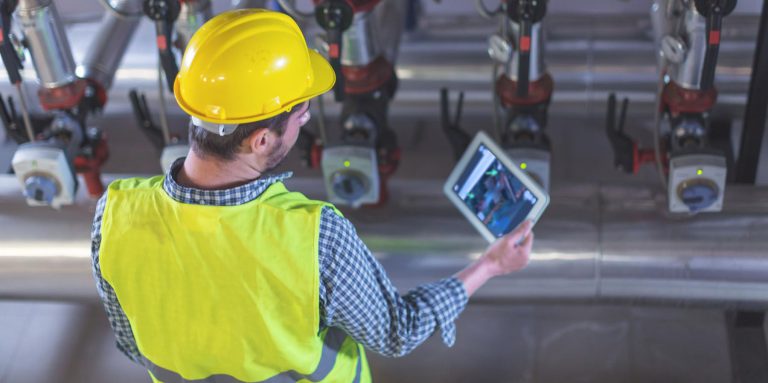 Similarly, the expert can switch to a live video stream directly to the technician on site and display an example installation or documentation.
"In many cases, there have been attempts to solve the problem by e-mail and telephone at first. But only the augmented reality solution can give a clear overview of the situation at hand. There might be something installed the wrong way around or using a wrong part. If a service visit is essential, the app enables planning the visit to make sure all the tools and parts needed are available," explains Lounasmaa.
AR technology can halve the cost of industrial maintenance services
The biggest financial benefits of AR technology come from the elimination of the time spent and costs of travelling to on-site maintenance jobs. In addition, productivity increases as remote maintenance frees up time for experts to serve other customers.
Significantly, an increasing amount of maintenance work can be solved immediately, without the need of a site visit. Prior to introducing the POINTR application to aid their maintenance processes, a customer reported solving 40 percent of maintenance issues remotely. Since adopting POINTR AR technology, the number rose to 78 percent.
"The number of customers served by the same staff can be at least doubled, i.e. the same staff can perform twice the number of industrial maintenance operations. The number can sometimes even increase fivefold. The productivity of service personnel will multiply, much more capacity will be available for the service, work time lost on travel will be reduced and customer service will be faster," says Ilmo Lounasmaa.
In particular, significant benefits are achieved by using AR when maintenance and installation tasks involve high cost, capital-intensive goods that are used for a long time. These are exactly the typical export products of the Finnish machine building industry.
5G accelerates the spread of augmented reality. Learn more about 5G.