REMOTE COMMISSIONING – Reliable and Timely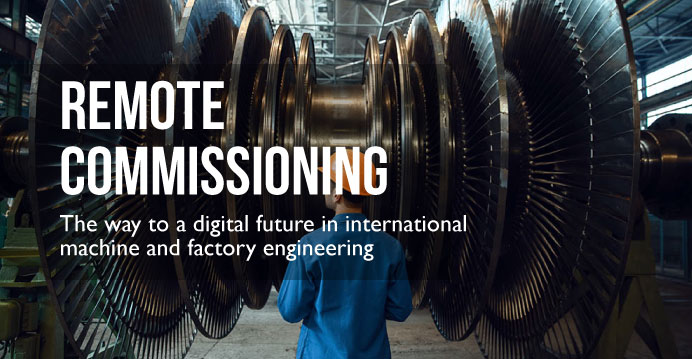 The way to a digital future in international machinery and factory engineering
Machinery and factory building are two essential pillars of Germany's export economy.
They are an integral part of the revenue generated by medium-sized, German companies and the expertise of such companies stands out in international comparison – always with the quality seal "Made in Germany".
German engineers are welcome guests around the world, when machines and factories are commissioned or maintained. Until now, they were regular passengers on international flights, together with large suitcases, filled with special tools required to get equipment running.
However, the Corona pandemic has largely frozen international travel.
Nevertheless, the problem of commissioning must still be solved due to for its enormous commercial importance to the whole industrial sector. The billing is often dependent on successful completion of the commissioned project. This should not be overlooked, especially when the process bottlenecks are in particular, the approval of commissioned goods.
In international business, these are often processed using letters of credit, that have a limited validity period. If the letter of credit fails as a payment security instrument, one is dependent on the goodwill of the customer to receive the remaining payment in cash or to get the validity of the letter of credit extended, in order to carry out the commissioning at a later date. Without the commissioning approval report, no payment can be charged on the letter of credit. In addition, the warranty period begins from the approval.
In the worst case, the customer can claim damages for financial losses if the commissioned system cannot be put into operation on schedule. In such cases, a well-worded force majeure clause that explicitly lists pandemics can help.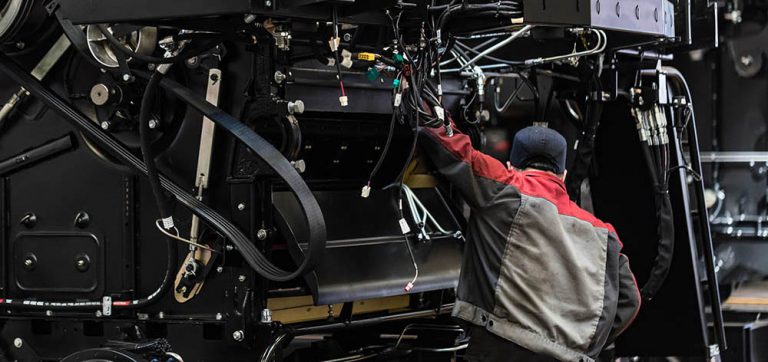 WHAT KIND OF SOLUTIONS ARE THERE?
For some time now, good digital products have been available allowing customers to give instructions and approvals remotely during the commissioning project, including the POINTR Remote Collaboration Software. When using these solutions, the process needs to be clearly described and it must ensure that the software can be used without sudden and unexpected costs to either party. The possibility to record sessions and images for documentation purposes also needs to be considered.   Software like this allows remote commissioning, as well as other tasks like remote maintenance and process optimisation.
Customers who order commissioning, often have experienced technicians who are able to follow the remote instructions of the German specialist staff or technical customer service. The common smart devices – smartphone, tablet, etc. – are sufficient to accelerate customer acceptance without the need to buy specialityhardware such as smart glasses.
With a remote guidance solution, in the form of an easy-to-install app such as POINTR, it is possible for the German specialist to follow events live on site via audio and video transmission. AR features enable additional computer-aided content to be shown. This allows an expert to efficiently and synchronously guide their counterpart at the customer's site – as if they were there themselves.
WHICH PRODUCT IS SUITABLE?
In the case of sensitive machinery and technical systems, data security is crucial when selecting a digital product.The Cyber and data security aspect should never be neglected when choosing a software solution. This will ensure that unauthorised third parties are denied access to sensitive company know-how.
The same approach is possible in the case of an in-house approval test (i.e. factory approval test), which has to be carried out before shipment of the commissioned goods. Here, too, the customer or their representative (e.g. TÜV, etc.) cannot physically be at the manufacturer's premises to witness the approval test and inspect everything as they would like.
A remote guidance software provides the option for the customer to inspect the system and approve it without leaving their office. POINTR is the safest and most reliable solution in the market for remote guidance solutions.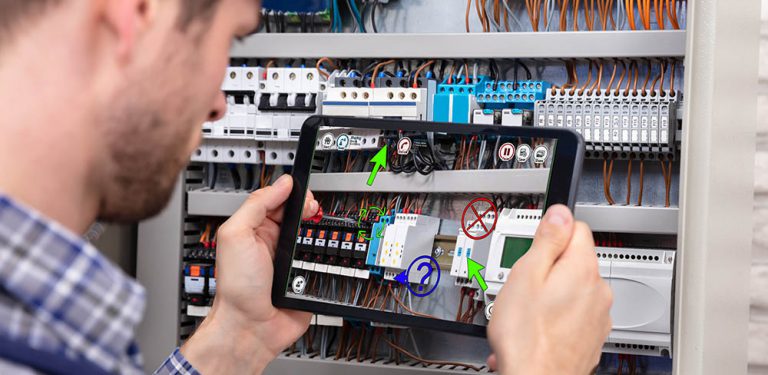 Ultimately, it is in best interest of the customer to use such a solution.
Not only does it permit more efficient and errorless commissioning but allows them to receive an instant remote service throughout the commissioned machine's life cycle.
Unrestricted, international travel, to which we have grown accustomed to in recent years,  does not currently exist. Sitting tight and waiting  for circumstances to change is not a sensible option. Now is the right time to set a  new course, towards a digital future for your service offering.
Contact us to find out more!