POINTR Performance Optimised for North America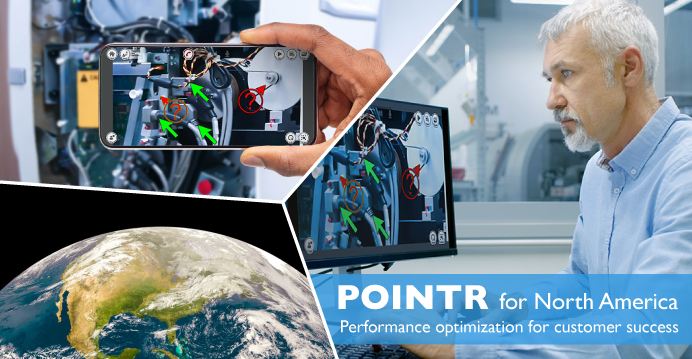 Delta Cygni Labs has opened North America infrastructure for POINTR. With this launch POINTR performance is optimised across 4 geographical regions around the world: Europe, North America, South America and Asia.
New Region Benefits the Customers 
Today POINTR customers can support their field services remotely and serve their customers anywhere on earth. Better efficiency and improved technical performance can be achieved with remote collaboration powered by Augmented Reality (AR), and this is why industries have started roll-outs of AR around the world this year. Therefore, the POINTR performance improvement update for the North America region is very timely. Industries need high equipment-uptime and immediate access to customer issues without being at the site in-person.
Industries that benefit the most from remote collaboration are those that have high value equipment and processes that can not be interrupted. Additionally volume products, where the site visits are too expensive compared to equipment capital value, is a business area that can get better customer satisfaction by utilizing remote assistance. Feel free to contact us if you are interested in testing POINTR for your customer needs.
"The new global infrastructure will boost POINTR performance for users in North America and Canada. Customer feedback highlights that the infrastructure in North Virginia, utilizing Amazon AWS, improves the user experience throughout the continent", explains Delta Cygni Labs CEO Boris Krassi.
POINTR customers in North America 
Enterprises with global business have expanded their POINTR use to North American functions for ensuring business continuity and highest quality of customer service. POINTR customer VALMET has implemented their remote support process throughout the Valmet Performance Centres world wide.
Other POINTR customers that have POINTR deployed to their business around the world are such as Wärtsilä, working mainly in the maritime sector, and Schneider Electric in the field of energy and manufacturing. POINTR allows them to offer instant support and troubleshooting to customers without delay or risking personnel health. You can adopt same processes by contacting us for business case definitions and KPI measurement briefing.
"Extending infrastructure to Sao Paulo earlier this year along with our Tokyo operations optimized call experience also for the growing number of South-American and Asian users. Now the industries in North America are also being stranded by COVID-19, so they have started to adopt remote collaboration process in cooperation with us", explains Delta Cygni Labs CTO Sauli Kiviranta.
Use case FORD – collaboration with dealers
POINTR allows global deployment within days without costly rollout-programs
In addition to mobile devices that are in every pocket for quick adoption of POINTR, Augmented reality glasses are being seen as the high-profile alternative for deploying augmented reality. All platforms will gain the benefits of this new region. Customers also gain the inherent information-security, as POINTR is utilizing security standards used by financial institutions. POINTR is the best solution considering cyber security, regardless of the type of devices that are used for deployment.
In POINTR all data transmission is secured and encrypted, based on proprietary XRTC-protocol of Delta Cygni Labs. This technology that was developed in cooperation with European Space Agency and State Research Centre of Finland. All of the various data transmissions needed for communication, such as handshakes, control data and live video and audio streaming data is compliant to same security standards financial institutions like banks use for their online services and applies regardless of the user's location.
"The biggest improvements will be in the latency and responsiveness of the POINTR calls, while maintaining the highest level of security and global deployment capability within days. All these benefits directly translate into first time fix rate and remote fix rate KPIs for our customers", describes Managing Director Jan-Marc Raitz, Delta Cygni Labs GmbH.