POINTR release 1.5.272: New Features!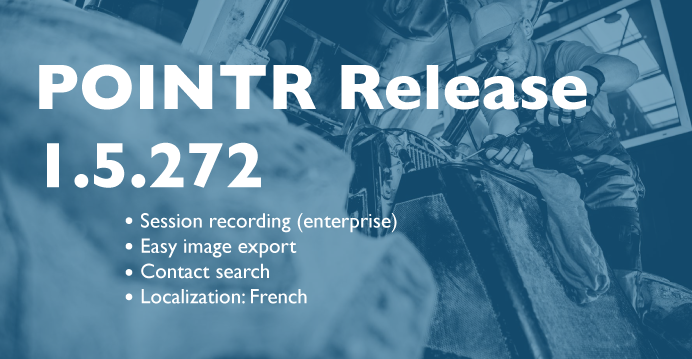 The POINTR summer release 2020 (1.5.272) introduces new features to improve documenting cases, usability improvements and support for Google Glass. The release overview is also available as a video!
Session Recording
This release brings one of the most requested feature: session recording! Now POINTR Enterprise license holders using a desktop/laptop can record a video of a POINTR session. You can take a short video note or record the whole session by clicking the "export Video" button in the Capture Menu. The recordings are saved locally to your device.
Exporting Views and Notes
Exporting Field Notes also got easier: clicking the exporting icon saves them to the same folder with the session recordings. Users can even export views to images immediately without saving them first in Field Note notebooks with the new "Export Image" feature. The "Export Image" feature is available for all platforms.
Contact Search
With this release finding contacts from address books just got easier. Now you can search for contacts across all contact groups and find instantly the contact you need.
Google Glass Enterprise Edition 2
POINTR already supports plenty of AR glasses from RealWear, Vuzix, Epson and others. This summer release adds one more to the list: Google Glass Enterprise Edition 2 can now be used with POINTR.
Localisation: French
The new release introduces one new language to the POINTR user interface. In addition to English and Chinese, POINTR UI can now be set to French.
Performance Optimised for North America
POINTR global deployment has been on the agenda throughout the spring 2020. The first phase in March optimised POINTR performance in Asia and South America in addition to Europe. Now the POINTR infrastructure is expanded further and users in North America can enjoy the optimised performance. Read more about the global deployment phase one here and North America phase here.
POINTR in Huawei App Gallery
Huawei devices don't have access to the Play Store any more, but it will not stop from using POINTR. POINTR is now available in Huawei App Gallery in addition to Play Store and App Store.