Remote Collaboration Solution for the Japanese Market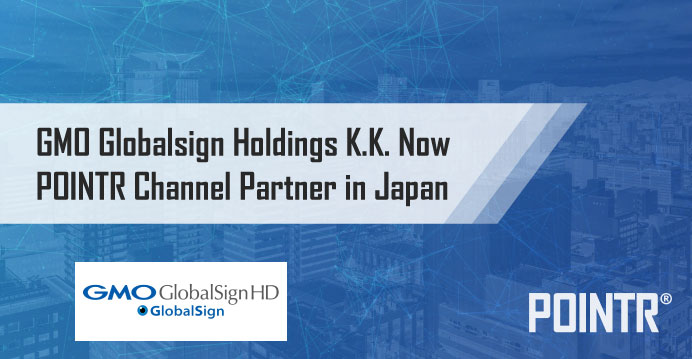 10 February 2021
GMO GlobalSign Holdings K.K. and Delta Cygni Labs today announced a new partnership agreement in Japan and Finland, which began on 1 December 2020.
This strategic partnership will allow GMO GlobalSign K.K.'s Japanese Enterprise customers to benefit from POINTR remote collaboration solution provided by Delta Cygni Labs. POINTR, www.pointr.com, is the world leading remote collaboration solution for professionals powered by Augmented Reality. It enables companies to transfer knowledge, when and where it is required, to ensure business continuity.
Delta Cygni Labs Director of Key Accounts and Channel Partners Marko Kuula said: "We are delighted that GMO GlobalSign K.K has decided to join our Channel Partner Network. We are excited about working with the GMO team and being able to offer their customers our solution in Japan."
GMO GlobalSign Holdings K.K.  said: "We are thrilled about our new relationship with the Delta Cygni Labs team. We know that the ability to leverage their reach and expertise together with our agility, superior network and high quality services, will deliver real benefits for our Enterprise customers in Japan."
---
For further information
Delta Cygni Labs
---
About Delta Cygni Labs
Delta Cygni Labs is solving technical human-to-human communication problems for industry, by applying scientific results and fundamental concepts of Cybernetics, Human-Machine-Systems and Augmented Reality. Our product POINTR is world leading application that enables the next level of communication through real-time AR annotations, live video streaming and voice chat.
Delta Cygni Labs was founded in 2013 as a spinoff from VTT Technical Research Centre of Finland. For more information please visit: https://deltacygnilabs.com
About GMO GlobalSign Holdings K.K.
GMO GlobalSign HD K.K. is a full-service IT infrastructure provider focused on cloud solutions. Established as a hosting company in 1996, the company has managed servers for more than 110,000 businesses and now has approximately 6,500 sales partners throughout Japan. In February of 2011, the company enhanced its focus on cloud-based solutions. Since 2007, the company has also grown its subsidiary, GMO GlobalSign, an issuer of SSL security certificates through offices in Belgium, U.K., U.S., China, Singapore, Philippines, India, Russia, and Dubai. GMO GlobalSign HD K.K. is listed on the Tokyo Stock Exchange (TSE 1st Section: 3788).
For more information on GMO GlobalSign Holdings K.K., please visit: https://www.gmogshd.com/english/