Ford offers the best in class customer experience with AR remote support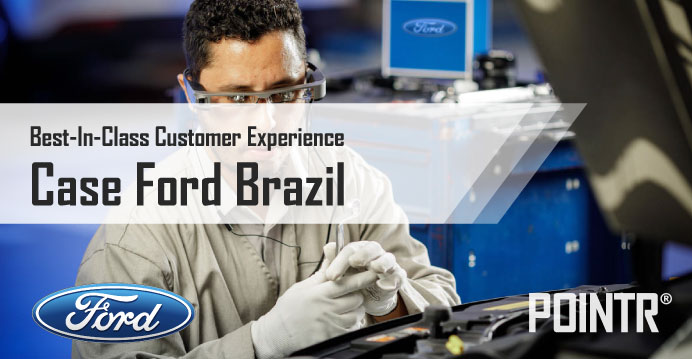 "Ford has led innovations in the past and within its brand purpose, placing costumers at the center of everything we do. We keep in the forefront of innovation, aiming for continuous improvements that exceed the needs and desires of our customers. As a result, we were able to understand what the market already offered, its trends related to cutting-edge technology, being a pioneer in the auto industry by implementing the pilot project using AR technology for remote diagnostic to support our dealerships. During our benchmarking, we found an excellent solution based on the use of POINTR. It's a disruptive technology that brings a great benefit to our customers and substantially reduce the time of diagnosis while vehicles are getting repaired at the dealers. It can also increase the productivity and service capacity of the dealers, offering a better experience during our customers' journey. This project is part of a broader strategy and it´s totally in line with the digital transformation promoted across Ford's South America operations." – Elton Miraveti, Ford South America Service Engineering Operations Manager
POINTR remote field service contributes Ford to provide the best service to their customers
Ford uses the augmented reality powered remote assistance software POINTR with live video, audio, and markings as well as many other features for technical collaboration. For the most difficult cases to solve, the dealers can contact the service centers directly through POINTR with AR glasses or any smart devices. Dealers' technicians can connect directly with the needed specialist and collaborate in real time to solve problems instantly. At the service center, the experts can see and hear through live video and audio what the situation is in the dealer's end.
POINTR helps companies to digitise selected processes and benefit immediately
"Our mission is to make money for our customers. And the instant return on investment from the first call on ensures this tool fulfils exactly that mission", adds Fabiano Freitas, who specialises in digital transformation of industry with his company Total Power, succesfull channel partner of POINTR's corporate mother company Delta Cygni Labs. "You immediatly improve communication processes, the time to respond and you reduce travel costs."
Immediately usable;
Straightforward;
Guaranteed functionality on all conventional smart devices;
Extremely high functionality.
"Our solution can be implemented extremely fast. With POINTR, companies can digitise their service business and benefit immediately", Marko Kuula from Delta Cygni Labs underlines. "With POINTR you don't have to deep-dive into digitalization as a whole to benefit from it.
"Being close to our clients and understanding their needs – not only in technical implementation, but also as a strategic partner for profitable Innovation is our main goal."  Freitas says with a smile.
Industrial Remote Collaboration takes more than an Office Communication Tool
POINTR was developed from the very beginning for industrial use and that is showing in every feature. It is not an office communication tool that was later adapted for industrial use, as is the case with many competitors. We offer a different experience. One that is designed for industrial settings.
With customers like Ford, Mercedes Benz, Valmet, the Italian-American automotive giant CNH Industrial (CASE) and demo in anothers car and utility vehicle manufacturers such as Toyota, Volvo Cars, Audi, Troller, Volkswagen and Stellantis, POINTR dominates the Brazilian automotive industry as a provider of remote field service and remote collaboration.
POINTR is easy to deploy and it works in any environment and on any network connection, from 5G to satellite. In a country so large that it alone covers 47.3 per cent of the area of the South American continent, POINTR guarantees smooth communication in the national language Portuguese (as well as in 12 other Languages) and helps experts to share their knowledge immediately anywhere.